Matthijssen Business Systems Inc. Awarded Kyocera's 2018 Service Solution Provider Award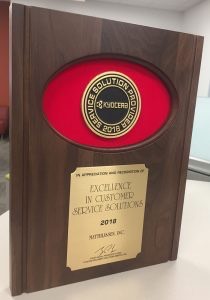 With great excitement we announce our recent accomplishment in acquiring Kyocera's 2018 Service Solution Provider Award for recognition of Excellence In Customer Service Solutions. Specifically, this award recognizes our technical department's success in excellence for its service operations. Kyocera kindly applauds our commitment to customer service, responsiveness, participation in technical training, technical promotions, and our commitment to assist in their company's success.
We consider this award affirmation that our company routinely delivers the high caliber of service we intend to provide. Thank you tremendously to the members at Kyocera for this notable recognition of our dedication. Moving forward, we're determined to continue the improvement of our customer service efforts and remain a company our clients can rely on.