Realistic New Year's Resolutions? Strengthen Your Security by Patching Your Systems This Year.
Set your business up for success in the next 12 months by committing to the right patch schedule for you business. This will give you and your employees peace of mind during 2022.

What is a Security Patch?
System or security patches are software and operating system updates that address security vulnerabilities within a program or product.
Why are Security Patches so important?
Security patches address known vulnerabilities within software systems. Once these flaws or weaknesses become known, cybercriminals begin looking for ways to exploit them. The sooner a security patch is installed, the faster your business can restore protection and security against threats associated with vulnerabilities.
Failure to patch systems result in breaches.
12% of IT professionals admitted that their organizations do not run vulnerability scans at all. Only 63% of the organizations that actively scan for vulnerabilities use authenticated scans. Of the companies who reported that their business experienced one or more data breaches in the past year, 57% confirmed that these breaches probably occurred because a patch was available for a known vulnerability, but not applied.
Recommended patching schedule:
New vulnerabilities are continually emerging, but the best defense against attackers exploiting patched vulnerabilities is simple: keep your software up to date. The National Vulnerability Database (NVD) it is recommended to update software every 30 days to avoid all other vulnerabilities. However if your NVD rating is high, you should patch within 7 days and if your rating is critical, every 48 hours.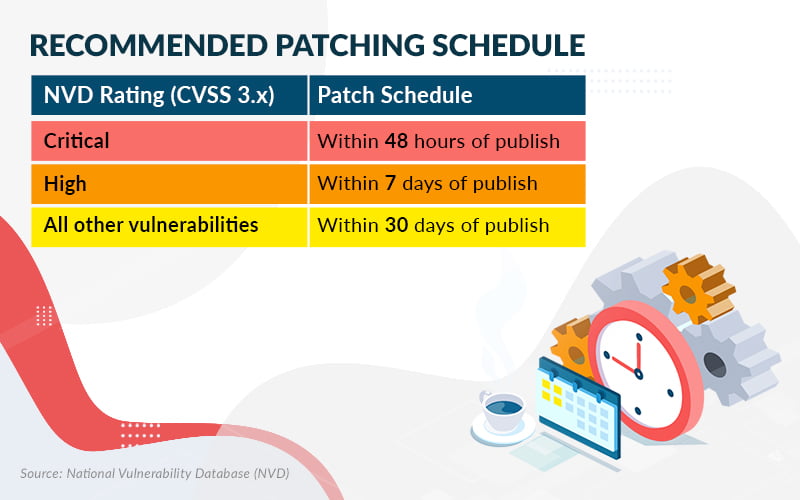 Is your organization due for a system patch?
Don't Leave your business open to attack. Call Matthijssen today to learn more: (973) 887-1101