Winner in Customer Satisfaction
3 Years in a Row!
MSP Innovation Awards NY 2021 - WINNER in Customer Satisfaction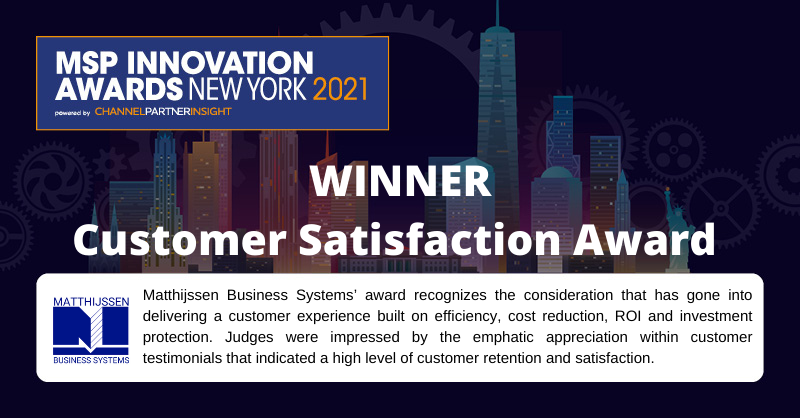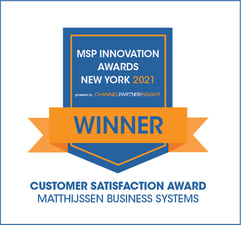 Cedar Knolls, NJ, June 10, 2021 - With great excitement we announce Matthijssen Business Systems' recent accomplishment in acquiring the MSP Innovation Award powered by ChannelPartnerInsight. Matthijssen has been recognized for Customer Satisfaction in the New York area for the 3rd year in a row!
Specifically, this award recognizes the consideration that has gone into delivering a customer experience built on efficiency, cost reduction, ROI and investment protection. Judges were impressed by the emphatic appreciation within customer testimonials that indicated a high level of customer retention and satisfaction. They also noted that in a market that is increasingly delegating more and more to automation, Matthijssen Business Systems is holding onto 'the human touch' in its connection with its customers.
Matthijssen considers this award affirmation that our company routinely delivers the high caliber of service we intend to provide. Thank you tremendously to the members at ChannelPartnerInsight for this notable recognition of our dedication. Moving forward, we're determined to continue the improvement of our customer service efforts and remain a company our clients can rely on.